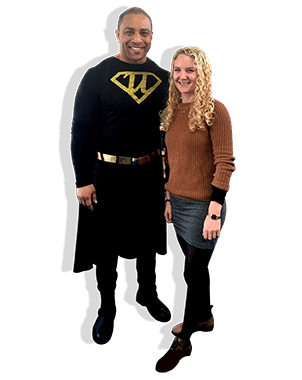 Rebecca Wall, Deputy Head, Fleet School.
"The UltraKids Business Club characters really grabbed the younger children's attention. They were inspired by the stories of famous entrepreneurs and business people.
The older children were particularly motivated to set up their own enterprises. We think it's important that children learn about business and being a responsible entrepreneur"
Who are we?
We are a group of entrepreneurs and teachers who have come together to teach entrepreneurship in education.
Founded by Julian 'The Ultrapreneur' Hall, UltraKids Club aims to create long term impact for young people as they enter the world of employment.
What do we do?
UltraKids Club teaches entrepreneurship in primary schools over the course of an academic year or term.
The activities are tailored around prompting children to think creatively, understanding entrepreneurial values and to begin thinking about how these values could benefit them and their community.
The programme also teaches the importance of well-being and how this supports personal and therefore entrepreneurial development.
How do we do it?
UltraKids Club provides children with flexible learning opportunities in the classroom.
We use 'tailored to ability' activities, book, and lesson plans. Our programme is designed to support learning about entrepreneurship in an inspiring, fun and interactive way.
Measuring Impact
UltraKids Club works closely with schools to ensure that we are able to measure and assess the impact on both academic achievement and attainment. Using existing school data or our own UltraKids Club Passport, children can retain a record or their entrepreneurial achievements throughout the programme.
What are the benefits?
Being entrepreneurial is an essential future skillset for most children. The Commission on Future of Leadership & Management (2013) states the most valued workers will have enterprise skills.
By 2020 more people will freelance than be employed in the public sector. However, in 2014 employers say the majority of young people lack these skills.
Students will develop an in depth understanding of:
•Business and entrepreneurship
•Sales and marketing
•Finance and money
•Products and services
•Social impact
•Leadership and team building
•Ideation and story telling
Following one of our courses, the schools we work with normally observe:
•Increased achievement and accelerated rates of progress due to engaging programme content. Reinforcing academics as part of entrepreneurial development.
•Improved behaviour within an academic year as a result of engaging group activities within the school community.
•Increased attainment year-on-year seen in improved exam and test results. We support the objectives of the national curriculum through enterprise challenges.
•Improved attendance rates. We aim to make school more 'interesting and relevant' to students and parents by reinforcing 'real world' applications of core academics through entrepreneurship.
UltraKids Club strongly integrates aspects of well-being alongside
entrepreneurial learning. We expect children to benefit from increased: 
•Emotional health
•Physical health
•Resilience
•Confidence
•Self worth
•Self-efficacy