I wholly endorse Ultra Education and the added value it provides for our young people in today's competitive world. I believe Ultra Education is filling a really important gap in the education system and would love to see the current curriculum become more skills based and diverse. The curriculum we have in place is incredibly effective but I do think we should give students the opportunity to explore entrepreneurship, especially in cases where children are not engaged or struggling academically.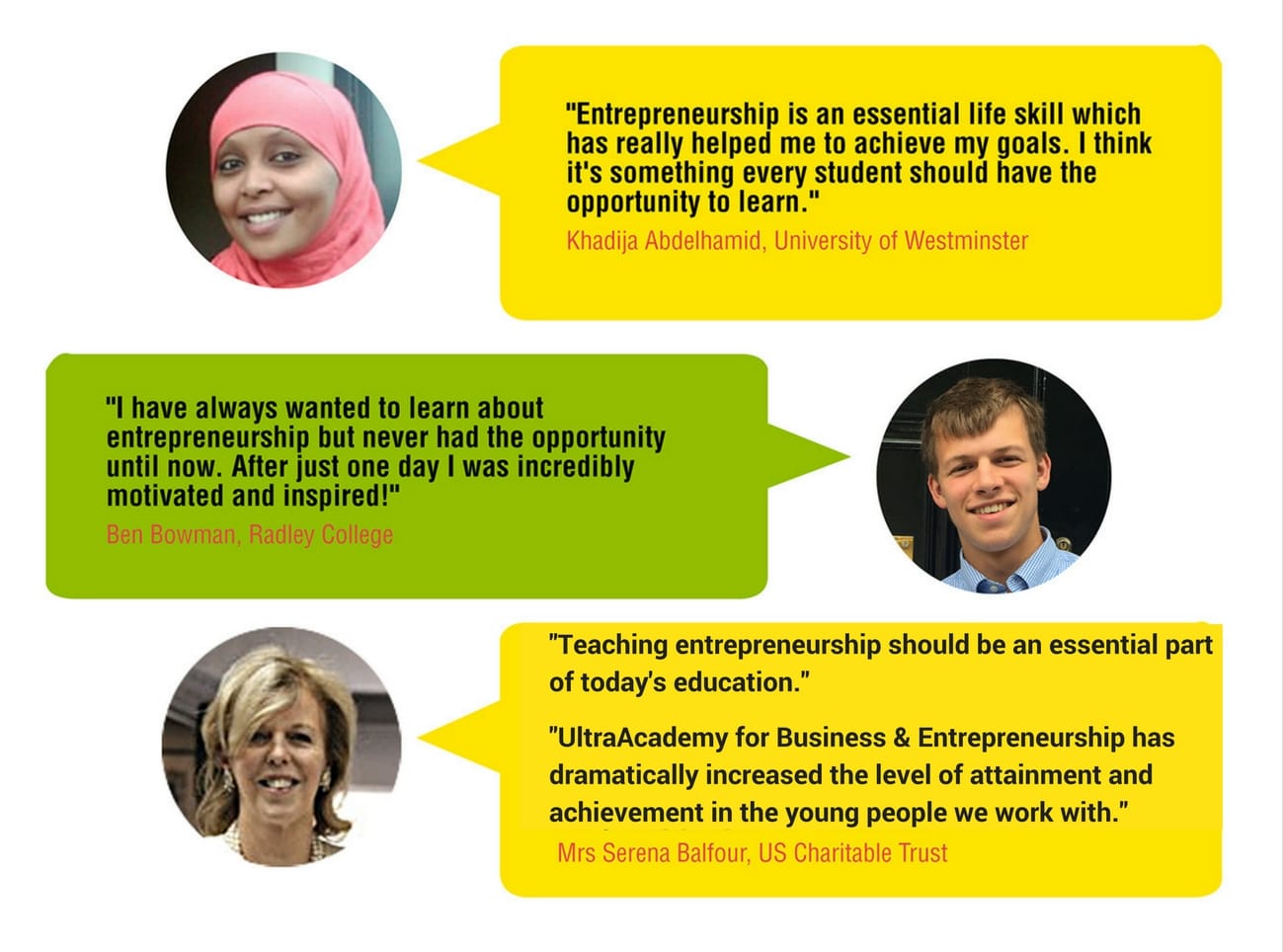 Who are we?
We are a group of entrepreneurs and teachers who have come together to teach entrepreneurship in education. Founded by Julian 'The Ultrapreneur' Hall, UltraAcademy for Business & Entrepreneurship aims to create long term impact for young people as they enter the world of employment.
What do we do?
UltraAcademy for Business & Entrepreneurship teaches entrepreneurship in Secondary Schools, Colleges and Universities. Delivered over the course of a term or academic year, our aim is to provide students with entrepreneurial skills essential in today's world.
How do we do it?
We teach both theoretical and practical aspects of entrepreneurship. Covering the entire lifecycyle of entrepreneurship from  opportunity – idea – planning – profit – growth – impact. Entrepreneurship is a great way to reinforce the national curriculum as we demonstrate the real world applications of core academics in an engaging way.
UltraAcademy for Business & Entrepreneurship provides students with the knowledge, skills and motivation to encourage entrepreneurial success in a variety of settings.
Measuring Impact
UltraAcademy for Business & Entrepreneurship works closely with schools to ensure that we are able to measure and assess the impact on both academic achievement and attainment. Using existing school data or our own UltraAcademy Passport, students can retain a record or their entrepreneurial achievements throughout the programme.
What are the benefits?
Following one of our courses, the schools, Colleges and Universities we work with normally observe:
Students will develop an in depth understanding of:
Business and entrepreneurship
Sales and marketing
Finance and money
Products and services
Social impact
Leadership and team building
Ideation and story telling
Following one of our courses, the schools we work with normally observe:
Increased achievement and accelerated rates of progress due to engaging programme content. Reinforcing academics as part of entrepreneurial development.
Improved behaviour within an academic year as a result of engaging group activities within the school community.
Increased attainment year-on-year seen in improved exam and test results. We support the objectives of the national curriculum through enterprise challenges.
Improved attendance rates. We aim to make school more 'interesting and relevant' to students and parents by reinforcing 'real world' applications of core academics through entrepreneurship.
UltraKids Club strongly integrates aspects of well-being alongside
entrepreneurial learning. We expect children to benefit from increased:
Emotional health
Physical health
Resilience
Confidence
Self worth
Self-efficacy
Contact one of our 'ultra' friendly advisors to find out how we can help your school, college or University
Call: 0345 052 0702