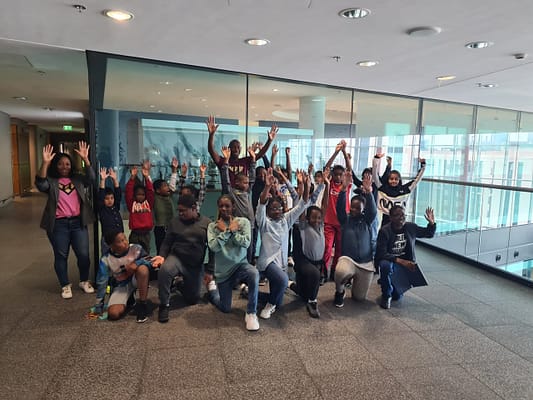 How to support Ultra
If you're passionate about our work in empowering young people through learning entrepreneurial skills, we would love to hear from you! There are loads of ways you could get involved including volunteering, fundraising, mentoring and donating.
 If you are from a business or organisation, we are always looking for opportunities to partner and work with others whose ethos' align with our own. Let's have a chat!
 If your organisation would like to offer our young people opportunities such as work experience, apprenticeships or job skills opportunities, drop us a line. We can also work with you to plan staff team fundraisers and corporate sponsorship.
 Get in touch with us now, let's help to build a brighter future for youth everywhere by empowering them to do what they love!
Fundraise for Ultra
Our work in teaching youth entrepreneurship is reliant on funding. Many of our programmes, courses and events are offered for free due to support from partners and sponsors, however, this is not always possible. We are constantly in need of further funds to expand our offering, deliver new programmes and ultimately impact more and more young people through entrepreneurial learning
 If you would like to fundraise for Ultra and help us to empower young people from underprivileged backgrounds through entrepreneurship, get in touch!
 We just ask one thing… Do what you LOVE!
 Our mantra at Ultra #DoWhatYouLove is that all young people should start a business from their passions or hobbies, so it would only be right that we ask the same of anybody who would like to fundraise for us!
 We would love it if you could use your talents, interests, hobbies or passions to help further our work, whatever that may be! 
Here are some ideas:
Are you a fitness fanatic? Plan a sponsored run
Are you a great (or maybe just keen) baker? Organise a cake sale
Do you have a competitive streak? Put on a team quiz night
Are you a bit of a daredevil? Do a sponsored skydive or bungee jump
Do you love swimming? Organise a swimathon at your local swimming pool or lake
Are you an avid reader? Get stuck into a readathon
These are just a few ideas but the possibilities are endless! What's your 'thing'? Use it to raise funds to support our work #dowhatyoulove and empower young people to do what they love! Get in touch with us today to get planning!