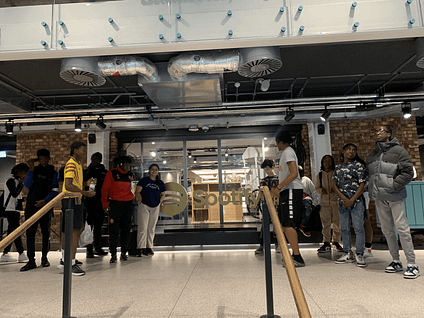 This summer, the young minds of Ultra Education had an unforgettable experience – a behind-the-scenes look at the Spotify offices. With 15 eager participants, we embarked on a journey into the heart of music, podcasting, and entrepreneurial spirit.
A monumental shout-out to Richard Cummins, the keystone who brought this dream to life. And of course, Helin Sarkisova deserves a standing ovation. Taking time from her busy schedule, she connected with our youngsters, delving deep into their entrepreneurial narratives. What truly stood out was the candid conversation around Helin's climb to her esteemed position at Spotify. Her tale was inspiring and a testament to perseverance, nudging our young participants to introspect, to recognise the weight of tenacity, and to embrace their unique journey.
One aspect that resonated deeply with our group was their interaction with the Spotify team. Engaging with professionals they could identify with culturally and experimentally was invaluable. This representation instilled a sense of belonging and made the dream of working in such places seem achievable. It underscored the message that backgrounds and beginnings do not limit where one can go.
Among the impressed was our very own Young Kingz Podcast crew. Given their entrepreneurial venture into podcasting, their excitement was obvious. They were curious and further impressed about the famous individuals who had visited this place.
But the cherry on top? The Young Kingz have been invited back! Yes, they'll soon grace Spotify's professional podcast studios for a recording session – a testament to the impact of their visit and a testament to the boundless possibilities that lie ahead.
Here's to the dreams, the music, the podcasts, and the unyielding spirit of entrepreneurship! A special nod to Richard Cummins for making it all possible. Our day at Spotify echoed with inspiration, promising a bright future ahead.