At Ultra Education, we believe passion should be at the forefront of starting a business, that's why our tagline is #dowhatyoulove! We have helped thousands of young people to start their own businesses from their interests or passions. From artists, to foodies, authors, fashionistas, cosmetologists and lots more! Check out some of our young CEOs below!
""Ultra Education is an incredible institution which first introduced me to entrepreneurship. Since starting their classes at age 7, I have started 3 businesses, a blog, and an Instagram account. I learned about how to put together a product that will sell and also how to market your passions/ become a content creator. I have also had the opportunity to attend London Fashion Week & Africa Fashion Week twice a year!
Ultra created a foundation that allows me to excel in any sector of entrepreneurship I wish. Ultra also taught me about tech, marketing, and designing skills which enable me to create my own websites and graphics and also social media posts! Ultra Education truly changed my life"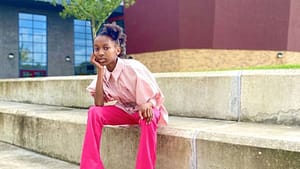 Ultra-talented young author and kidpreneur Tyler David was nominated for at the Rising Star award at Business Success Awards! At just 9 years-old he has authored 21 self-development books for kids and he has a current goal of releasing 100 books by the time he is 10 years-old!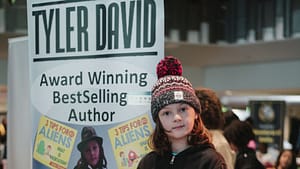 Young photographer and kidpreneur Talhah Syed had an amazing 2022! Having launched his business and exhibiting at our summer Youth Business Fair, he went on to win a photography competition and also had his work displayed at the world-famous Saatchi Gallery.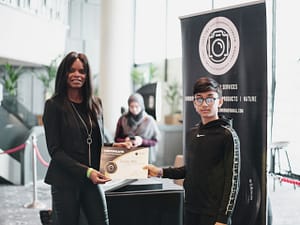 Marcus, the founder and CEO of MJ's Treats won the first ever 'Kidpreneur of the Year' award at the West London Business Awards!
Marcus launched his business 'MJ's Treats' in late 2020, during the pandemic after enrolling in one of Ultra Education's online youth entrepreneurship programmes and has gone from strength-to-strength!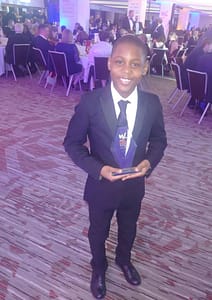 Founder, Precisa launched her deodorant business in late 2020 after enrolling on one of our entrepreneurship programs and has gone on to sell her natural roll-ons at business fairs and markets across London
Co-founders and cousins, Kaelan and Jude launched their sunglasses and apparel business Juke of London, in 2021
Founder and author, Mia, enrolled on one of our entrepreneurship programs in late 2020 and authored her first book, All About Wild Mammals at just 9 years old. She has since gone on to attend the West London Business Awards and have her book on display in libraries across Brent.
10 year old kidpreneur Shane is on a mission to inspire and motivate others to '⭐DREAM BIG⭐' and to go for what they want in life using clothing and his motivational posts on social media
10 year old kidpreneur, Lauryn became the youngest Afro-Portuguese author when she launched her book, 'Lauryn That's Me – The Story Of A Powerful African Girl'.
Isabella is a child entrepreneur and Youtube star who also has her own lip gloss and nail polish company.
Zeus attended one of our summer programs in 2022 and exhibited his natural body butters for the first time at our 2022 Winter fair in Wembley stadium
Olivia Jae Candles and Melts
13 year old Mia started her all sustainable business selling hand poured, scented soy wax candles and wax melts in 2021. She had a vision to bring happiness and joy through her creations
Kaiya first showcased her amazing handmade designs at our youth business fair back in 2018 in Tesla Chiswick. Her designs include a variety of jewellery and accessories. 
At 15 Romeo is already a 4x award-winning author of 8 books
12 year old Kimi launched her handmade crocheted business in 2022 and has gone on to exhibit at markets and events around London including both of our Youth Business Fairs in that year.
Khamani has sold and exhibited his educational, creative and fun craft boxes at our Winter business fair and other fairs and events. His craft boxes are packed with arts, crafts and fun facts for all ages.
9 year old kidpreneur Mahaylia launched her business in 2022. A young journalist, Mahaylia aims to tell the stories of other business owners and representatives around the world
10 year old kidpreneur, Israel started his business in 2020. Inspired by his love for an animal book he decided to create his own, fusing different animals together. Joining our programme in 2020 he developed his passion for drawing these animals into a business. Launching his first book in November 2022. He exhibited his books and book accessories in both Ultra fairs in 2022 as well as other events around London and has even featured in his local newspaper!
Kidpreneur EJ became a published author at the age of 7 with her book "I am in love with my Locs" with the aim to encourage others to love and appreciate their hair. She also sells merch.
Juzin sold his cold pressed, all natural and plant based juices at various events as well as our last Winter Fair at Wembley stadium
Ilho has sold her self development and empowerment journals for children and young people at both of our fairs in Wembley stadium. While also being nominated for a TruLittle hero award in 2022
Diary Of A Young Black King
At age 12 Authored his first book and became an Amazon top 3 bestseller in the Cultural Kids Books category.