Ultra Education has been shortlisted for the THE LLOYDS BANK POSITIVE SOCIAL IMPACT
for the 2018 Lloyds Bank National Business Awards. Ultra Education run entrepreneurship classes for kids, and they have taught over 100 young people, nationwide.  The business based in Brent was founded by entrepreneur Julian Hall, after he realised that people would do better in business if they were taught the necessary skills earlier.
The awards, now in their 17th year, have a long-standing history of celebrating the best of British business. Entries opened earlier this year when The Lloyds Bank National Business Awards opened the London Stock Exchange. Called the "Oscars of great British business" by Former Prime Minister David Cameron, the awards recognise companies who are driving exceptional growth across the country.
"We are extremely proud to be among the finalists for such a prestigious award. We hope this nomination can help us to create more positive outcomes for the children and young people we work with." said, Julian Hall, founder of Ultra Education.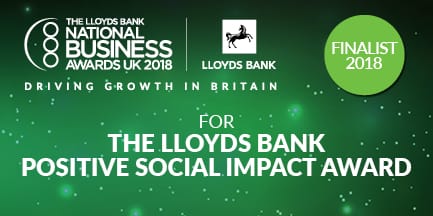 The shortlist was finalised after over a thousand registrations were meticulously assessed against each category's criteria. Sarah Austin, Brand Director of The Lloyds Bank National Business Awards explained, "All entries faced a rigorous judging process, which is why the awards are an accolade to true, world-class achievements, offering businesses the credibility and encouragement to continue in their ambitious success. Due to the high-level of competition witnessed this year, all finalists should feel incredibly proud."
The finalists must now make their presentations to a panel of judges and leading business luminaries, after which the winners will be revealed on the 13th of November at the Grosvenor House Hotel, Park Lane, London.
Visit www.nationalbusinessawards.co.uk for a full list of all finalists or for details on how to attend the event.
-ENDS-
About The Lloyds Bank National Business Awards
Open to organisations of all sizes from all sectors across the UK, The Lloyds Bank National Business Awards is the UK's most prestigious independent business recognition platform with its particular emphasis on excellence, innovation and ethical business.  Now in its 17th year, the National Business Awards connects the nations' professionals through its annual awards ceremony; year-round thought leadership and networking events; and is UBM plc's flagship awards programme. Visit www.nationalbusinessawards.co.uk for further information or follow us on Twitter @businessawards.
The Lloyds Bank National Business Awards is organised by UBM, which in June 2018 combined with Informa PLC to become a leading B2B information services group and the largest B2B Events organiser in the world.
To learn more and for the latest news and information, visit www.ubm.com and www.informa.com